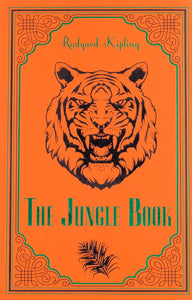 The Jungle Book
by Rudyard Kipling
This edition of Rudyard Kipling's classic novel features a suede-like custom cover with beautiful metallic foiling and a ribbon marker.
Embark on an imaginative adventure with Mowgli, a young orphaned boy raised by animals in the jungles of India. In a collection of stories about courage and survival, Mowgli must learn the laws of the jungle to defeat the tiger Shere-Khan. Lively characters and a captivating journey of self-discovery make The Jungle Book an ideal gift for young readers that will be treasured for years.
ISBN: 9781926444291
Publisher: Paper Mill Press
Condition: NEW
Click to see more books by Rudyard Kipling
Unless labeled "New", all of our books are second-hand.